Design No. 035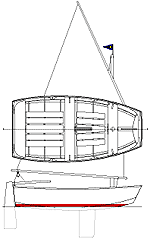 Specification
LOA
2.400m
7' 10½"
LWL
1.900m
6' 2¾"
Beam
1.220m
4'0"
Sail area (lug)
3.719m²
40.00ft²
Main area (spritsail)
2.865m²
30.84ft²
Jib area (spritsail)
0.881²
9.48ft²
Weight
70 kg
154 lbs
Outboard
1.1-2.5 kw
1.5-3 hp
Capacity 3 persons
200 kg
440 lbs
Design No. 035 – 2.400m (7'10½") chine sailing pram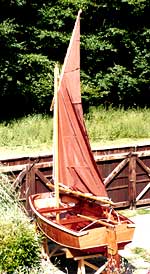 Design 035 is single chine plywood epoxy construction built on very simple wood-epoxy frames. She makes a good starter project, carries well for her size and provides an excellent small tender. She handles nicely under outboard and is an excellent row boat. With her simple balanced lug rig, she is easy and great fun to sail.
We have recently added plans for a spritsail rig (PDF drawing opens in a new window). With this rig there is a smaller loose-footed main and a little jib, set out on a small bowsprit. The rig was initially developed for a project in South Africa where one of these small sailboats is in build to give sailing lessons to the local population many of whom are disadvantaged. With no boom to dodge and a small jib for the crew to control, this should be a great little teaching boat.
Perfect for children to sail and row – to explore creeks and islands! Add strap-in buoyancy bags for extra safety, or easily incorporate built-in buoyancy during the build. Deservedly one of our most popular designs.
The boat is built using the most modern of materials – WEST™ system boat-building epoxies. Construction is in plywood/epoxy giving high structural strength and rigidity, with light weight. The boat can be clear finished (varnished) or she can be painted. In either case you will have a long-lasting low-maintenance structure, so you'll spend you time having fun with the boat rather than maintaining it.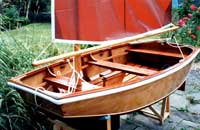 The detailed and accurate plans together with true step-by-step building instructions carry builders, professional and non-professional alike, through the building process simply and easily. Plans are fully dimensioned; no scaling or lofting is required. The plans and instructions are practical, clear and detailed, containing everything required to build and complete the vessel. Professional technical support throughout the build, is available by email, via the forum or by regular mail. More plan info …
Click here to look at the free study plans, sample instructions, specification and cutting list for this design, plus a full list of the plans and instructions that come with the design package.
CNC cutting files are available for this design.