Design No. 055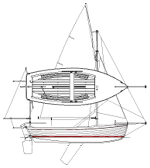 Specification
LOA
4.600 m
15'1⅛"
LWL
4.172 m
13'8¼
Beam
1.670 m
5'5¾
Draft, board up
0.272 m
10¾"
Draft, board dn
1.250 m
4'1¼"
Main area
7.863m²
82.70ft²
Mizzen area
1.451m²
15.62ft²
Jib area
2.220m²
23.90ft²
Staysail area
1.800m²
19.38ft²
Weight exc. outboard
300 kg
661 lbs
Outboard
2.25-3 kw
3-4 hp
Capacity 6 persons
600 kg
1,325 lbs
Design No. 055 – 4.600m (15'1⅛") half-deck yawl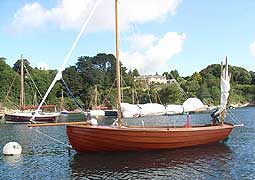 Design 055 is a modern full-bodied design, providing an exceptionally robust, sea-kindly performance. With a modern high-peaked gaff on the main and standing lug on the mizzen, she is a delight to sail. As well as the alternative gaff cutter rig, plans for
bermudian sloop rig
(PDF drawing opens in a new window) are also included.
"Windrush" pictured hereabove on the Fal estuary in the English West Country, is ply/epoxy lapstrake construction with the standard yawl rig. When it blows up, you can drop the mizzen and jib and sail under main and staysail, for a very snug heavy-weather rig – the main also reefs down. Or experiment with mizzen and staysail, or mizzen and jib. Some builders have also gone for a single roller-furling headsail instead of the cutter-headed rig.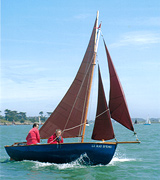 Le Rat d'Eau, pictured rightabove in Brittany, France is cold-moulded construction and cutter-rigged (no mizzen). The only changes needed for ththe cutter rig are a longer main boom and gaff, with the main sheet attachment moving further aft on the boom. As for the construction, the same frames, backbone and deck structures work for either type of hull skin - lapstrake or cold-moulded.
Carrying up to six people, she makes a perfect family boat for day-sailing or longer expeditions, perhaps camping or exploring creeks and estuaries. The boat is easily trailed and very quick to launch and set up ready to go.
The boat is designed to be built using WEST™ system or similar boat building epoxies. Construction is on six laminated frames and a laminated backbone. The hull skin can be plywood/epoxy lapstrake or cold moulded wood-epoxy, both systems giving high structural strength and rigidity, with reasonably light weight. Both methods are included in the Plans and Instructions.
The deck skin is 6mm plywood on a light structure of longitudinals, running through the frames, all under the WEST™ system. The boat can be clear finished (varnished) like the "Windrush", or she can be painted like Le Rat d'Eau. In either case you will have a long-lasting low-maintenance structure, so you'll spend you time having fun with the boat rather than maintaining it.
The original design was for a sailboat without outboard – oars were the order of the day if the wind fell right away. Subsequent builders have requested arrangements for an outboard and plans are available for either a transom bracket or an inside-hull outboard-well, requiring some modifications to the aft deck and rig. An outboard on a transom bracket is just visible on the picture of "Windrush", while "Le Rat d'Eau" has an outboard well, designed at the time by the builder.
The detailed and accurate plans together with true step-by-step building instructions carry builders, professional and non-professional alike, through the building process simply and easily. The plans and instructions are practical, clear and detailed, containing everything required to build and complete the vessel. Professional technical support throughout the build, is available by email, via the forum or by regular mail. More plan info …
Click here to look at the free study plans, sample instructions and specification for this design, plus a full list of the plans and instructions that come with the design package.
A full set of CNC cutting files is also available for this design, including CNC cut ply sandwich frames (three layers of 6mm ply) and the 9mm ply lapstrake planks, together with all the other plywood parts.
If you want a 15-footer for more extensive cruising, why not take a look at our Design No. 077.
Here is a short slide show of Le Rat d'eau in build. When it loads it will be on "Pause"; hit "Play" to set it going. You can also move manually backwards and forwards through the slides. When you close the window, it's best to leave the slideshow on Pause else it will be running in the background.