Design No. 155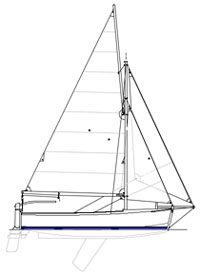 Specification
LOA (inc. bowsprit)
5.192 m
17'0"
LoD
4.500 m
14'9⅛"
LWL
4.315 m
14'2"
Beam
1.760 m
5'9"
Draft (board up)
0.257 m
0'10"
Draft (board down)
1.360 m
4'6"
Displacement on dwl
493kg
1085lbs
Estimated weight
210kg
463lbs
Mainsail
7.910m2
85.1ft2
100% Foretriangle
4.560m2
49.5ft2
Staysail
2.537m2
27.3ft2
Jib
2.863m2
30.8ft2
Outboard
2-3kw
2.5-4hp
Capacity 6 persons
550kg
1,200lbs
Design No. 155 – EasyBuild 15: 4.500m (14'9⅛") half-decker
Simple and quick to build from super-accurate cut parts. Fast and exciting to sail. Robust and powerful, safe and tolerant. Ideal for day-sailing and overnight camping. Good looking; a pleasure to build and own!
The EasyBuild Range is designed from the outset so that it can be built from computer cut (CNC) parts. This is in contrast to our earlier designs, where CNC parts have essentially been an add-on to the design package.
The EasyBuild 15, when made from all CNC cut parts, can have a very quick build time. It's hard to be precise about this as builders vary in how many hours they can put in, the level of finish the want and so on. But a basic build time of around 250 hours would not be unreasonable.
We recognize that not every builder will want to use CNC cut parts – or would like to use some CNC parts and some marked out and cut by hand. To meet this requirement fully dimensioned plans are provided for every component. This gives builders the freedom to decide which parts they would like to self-cut and which they would like to have CNC cut.
The CNC frames and the transom are made sandwich-fashion from three layers of 6mm ply. This provides a stepped bevel on the outside edges, the steps being small enough to be filled with epoxy when the skin is bonded on. The parts are located accurately and easily by short lengths of dowel rod pushed through pre-bored holes. The layers are epoxy-bonded together, easily held down by weights or clamps.
For builders who prefer to self-cut the frame parts, we have also provided additional data to make them from two layers of 9mm ply, or solid timber, and bevel the outer edges in the traditional way.
The backbone is constructed from 8 layers of 12mm ply and incorporates the hog, stem, keel, centrecase and mast step, all fully shaped and bonded into one component.
The hull skin is 9mm ply and the CNC cut panels can be assembled and bonded together off the job, before they are bonded on to the frames and backbone. Two versions of the panels are included – a dead-size set, where bevels are epoxy-filled, and an over-size version with bevelling allowances. And as with all the other parts, fully dimensioned plans are included to enable the components to be self-cut.
Watertight compartments are arranged under the foredeck and under the aftdeck. These have good access hatches so that the compartments can be used for stowage of gear and equipment. Further watertight compartments are arranged the full length of the boat under the sidedecks, and these can be used for stowage of smaller items. The provision of these compartments makes it much easier to bale the boat should she get swamped in heavy weather
The soft-chine hull gives all the performance benefits of a chine hull aft with the sea-kindly easy-riding round-bilge hull forward. The standard rig is a folding gunter cutter. Optional rigs are an occasional cutter, where a smaller staysail is set flying in conjunction with a roller furling genoa; and a straightforward sloop with a roller furling genoa. Both use the same folding gunter main.
Whichever way you go all CNC, a mixture, or all self-cut, the unprecedented detail and information on the plans, together with true step-by-step building instructions will lead you through the building process simply and easily. No scaling or lofting is required. You can trust the plans and instructions to be professional, practical, clear and detailed – just follow them and you will be successful. No other information is needed. Free professional technical support is available throughout the build. More plan info …
A complete General Arrangement Plan is available hereThe plan is a large PDF file and opens in a new window.
Click here to look at the free study plans, sample instructions and specification for this design, plus a full list of the plans and instructions that come with the design package.