Design No. 176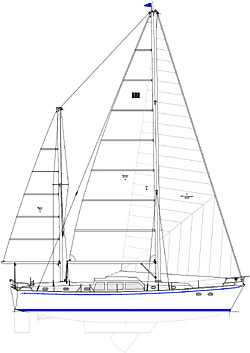 Specification
LOA
15.500m
50'10¼"
LWL
13.568 m
44'6"
Beam
4.400m
14'5½"
Draft, deep keel
2.200m
7'2½"
Draft, stub keel, c/b up
1.400m
4'7"
Draft, stub keel, c/b down
2.720m
8'11"
Displacement on dwl
18100kg
39,904lbs
Ballast
7000kg
15,432lbs
I
18.125m
59'5½"
J
5.540m
18'2"
P
16.310m
53'6"
E
5.775m
18'11½"
Py
10.025m
32'10¾"
Ey
3.790m
12'5¼"
Mainsail
41.100m²
507.0ft²
100% foretriangle
50.200m²
540.3ft²
Mizzen
19.000m²
204.5ft²
135% Genoa
68.400m²
736.3ft²
Mizzen staysail
44.500m²
479.0ft²
Engine
81kw
110hp
EU Category A - Ocean
Design No. 176 – Selestra 51: 15.500m (50'10¼") cutter
The Selestra 51 is the first of new range of powerful classic modern cruising yachts envisaged primarily for construction in aluminium alloy, taking full advantage of our long experience of both designing and building in this material. The designs would also be suitable for cold-moulded wood/epoxy construction.
A complete General Arrangement Plan is available hereThe plan is a large PDF file and opens in a new window.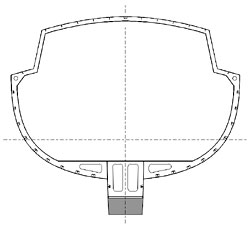 In aluminium alloy the Selestra class is built on well-spaced (typically about 1500mm - 5') fabricated ring frames, a typical example is shown right (click to enlarge)above (click to enlarge). The principal web components for the frames (and floors etc.) can easily be CNC cut, with the flanges naturally formed without rolling and being chain-welded to the webs.
Longitudinal T-section stringers are fairly closely spaced, running through the frames and naturally formed on the job. Typically the longitudinal stringers are spaced at about 300mm (12") centres amidships, naturally reducing forward and aft as the hull girth gets less. This system provides and extremely strong substructure, with relatively small panel areas, and will result in a very fair hull, requiring a minimum of filling and fairing if the hull is to be painted.
Plating is in diagonal strips, typically about 400mm to 500mm (16" - 20") wide, which will lay naturally around the hull without rolling or wheeling, and with little edge fitting required. We have proven this system on a variety of aluminium and steel hulls. It will generally comply with certification (ABS, Bureau Veritas, LLoyds etc.). And it allows a round bulge hull to be built more easily than a chine hull with a much fairer result.
The Selestra 51 features a comfortable and spacious interior layout, well suited to long passage-making and sea going conditions, but providing equally comfortable living in harbour or at anchor. Electrical and mechanical systems are clustered around the engine room for simplicity and convenience of maintenance and servicing.
Click the image below for a larger version, together with a profile view.

There are two large well-appointed double cabins, each with two good wardrobes and ample lockers and storage. The master cabin aft has an en-suite WC with separate shower compartment; there is also room for a compact washing machine adjacent to the engine room. The forecabin shares a large WC and separate shower with the third twin-berth cabin to starboard.
The spacious deck saloon has a large dining settee to starboard and a smaller two-seater settee to port. There is a partition alongside the companionway to port, which helps to provide a secure descent from the cockpit to the saloon – outboard of this there is a small bar overhanging the galley counter top.
The galley is a step down from the deck saloon to port. It is an ideal sea-going galley, compact, convenient, and in an area of least movement in rough weather. The refrigerated compartment backs on to the engine room to give minimum runs of pipework from the compressor.
The navigation station is two steps down from the deck saloon to starboard; aft of that is the ship's office with the principal access to the engine room opposite.
The sail plan is a medium aspect conventional ketch rig, with fully-battened, slab-reefing main and mizzen and a roller-furling genoa. In-mast furling or in-boom furling on the main are among other options – though with the centreboard version it would be better to avoid in-mast furling because of the extra weight aloft. While it's perfectly possible to have a modern square-headed main (and mizzen), this would mean that there would not be a standing backstay for the main – which for a cruising yacht, possibly quite short-handed, is perhaps not ideal. In this context the mainmast could be keel-stepped – without much disturbance of the interior layout.
The deck plan shown here is for the aft control cockpit. This features twin steering stations – though a single central steering arrangement is equally suitable. Winches and sail control lines are grouped around the control cockpit is the instrumentation. The main cockpit being free of winches and sail control, is arranged for comfortable seating with a permanent cockpit table – great for harbour use and day sailing and safe for less experienced guests. For long-distance cruising a second set of auto-pilot controls in the main cockpit would be advantageous.
There are plenty of other possibilities for the deck layout, the most common being a conventional arrangement with the steering position in the main cockpit (and no aft control cockpit).
Though not shown on the plans, we envisage davits aft to carry an RIB and outboard; inbuilt liferaft and lifebelt storage in the stern pulpit; and fender stowage rings in both the bow and stern pulpits.
For yachts from about 10m (33') up, aluminium alloy really comes into its own with the best strength/weight ratio of all materials apart from exotic fibres. It is lighter and cleaner to handle than steel and used correctly in the right grades it doesn't corrode in a marine environment. It doesn't require painting, unless that is preferred, which pretty well produces the ultimate in a maintenance-free hull.
It can be cut with normal woodworking machinery and power tools (table saw, bandsaw, circular saw, router etc.). And it can be filed and drilled with ease. It does require good welding techniques and the correct welding equipment – for yacht work, almost exclusively MiG welding is used. Other than that, no specialist machinery is generally required.