Design No. 067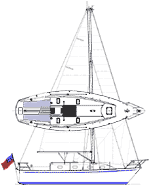 Specification
LOA
9.070m
29'9⅛"
LWL
7.100m
23'3½"
Beam
2.985m
9'9½"
Draft, std keel
1.400m
4'7⅛"
Draft, board up
0.915m
3'0"
Draft, board down
2.000m
6'6¾"
Displacement on dwl
4250kg
9370lbs
Ballast
1780kg
3924lbs
Main area
23.151m2
249.20ft2
100% foretriangle
19.840m2
213.56ft2
Staysail
9.510m2
102.37ft2
Genoa
26.661m2
286.98ft2
Headroom
1.900m
6'2¾"
Engine
15-26kw
20-35hp
EU Category B - Offshore
Design No. 067 – Sapphire 30 9.070m (29'9⅛") cutter sloop
Our Sapphire 30 is a substantial robust, fast, modern world cruising yacht. Construction throughout is strong and tough, while being reasonably lightweight and eminently practical. A seriously attractive sailing yacht for the serious cruising owner and family.
Built as standard in cold-moulded wood epoxy on laminated frames, construction of this design is practical and straightforward. The plans include an alternative ply epoxy lapstrake hull skin. And strip planking + biaxial glass would also be a viable option. About 130 plans and 7 books of instructions make up the portfolio for this design. The plans contain all the information necessary to build and complete the boat, make all the components (like bow and stern pulpit, stanchion bases etc.), furniture units and parts, together with the necessary systems (wire-by-wire electrical system, pipe-by-pipe plumbing system etc.), equipment and fittings. The instructions lead you through the build step by step and also deal with launching, rigging and sail trials.
The standard keel is a fairly deep (draft 1400mm – 4'7⅛") cast iron fin. This gives excellent performance and stability. It is strong, simple and easy to engineer.
An alternative keel arrangement is a long shallow (draft 915mm – 3'0") cast iron keel with a centreboard. The keel swells at the bottom to keep the centre of gravity low. The centrecase is wholly contained below the cabin sole. And one of these boats, 067/06 pictured here, has been built with the shallow centre keel/centreboard + bilge keels.
Boat No. 6 is very similar to the General Arrangement (GA) but with some differences. The layout can be seen on the study plans page – Plan No. 067/010/01. In general the standard downloadable plans are for the arrangements on this boat.
The accommodation comprises a good V-berth fo'c'sle, which can convert to a double with an infill piece. There are excellent lockers beneath the bunks and a hanging locker. Outside the fo'c'sle there is a second large hanging locker opposite the WC compartment, wider than that shown on the GA and incorporating a hearth for a cabin heater. The WC compartment has a toilet, washbasin and shower. The galley to port is much as shown, but squared off to a deep L-shape at the forward end. There is a comfortable L-shaped settee to starboard, with a drop-leaf cabin table and lockers and bookshelves outboard. The aft-facing chart table uses the aft end of the settee berth as a seat. Aft to port there is a good-sized double berth, partly tucked under the cockpit, but enough out in the open to not be claustrophobic. There are excellent lockers throughout.
On deck, the boat has tiller steering, with all controls led aft; the mainsheet is on a beam-track just astern of the rudder stock – you can see the Deck Plan on the study plans page – Plan No. 067/012/16.
At this size there is plenty of opportunity to customize the interior layout as can be seen from the three interior plans shown here for different Sapphire 30's. Clicking the images will load up a PDF of the complete GA plan for that boat in a new window.
Boat No. 1 (which was slightly shorter at 29') had the galley and toilet compartment aft with a twin v-berth fo'c'sle. A good wet-locker is provided at the aft end of the toilet compartment. The foot of port settee continues under the desk in the fo'c'sle to provide a full-length berth. The chart table is at the forward end of the starboard settee, and a large leaf hinges out to make a cabin table. There is a double berth to port under the cockpit sole and seat. To starboard there are good cockpit lockers. On deck she had wheel steering, with the mainsheet on a track across the bridgedeck.
Boat No. 3 had the toilet compartment forward. The extensive galley is to port with an L-shaped settee to starboard (which also makes a full-length berth if needed). The aft-facing chart table is at the aft end of the settee. The fo'c'sle has a double berth to starboard. Another double berth to port extends under the cockpit seat and sole. To starboard there are good cockpit lockers. On deck she has tiller steering with the mainsheet on a beab across the hatchbox.
Boat No. 5 had an upright transom and a shallow sugar scoop. The fo'c'sle, WC compartment and saloon settee are arranged like Boat No. 3, but there is a small hanging locker aft of the settee instead of the chart table. The galley is to port, with the forward-facing chart table aft of it, using the head of the quarterberth as a seat. There are quarterberths port and starboard. The downside of this accommodation plan is really the lack of cockpit lockers. On deck this boat is similar to No. 1, with wheel steering and the mainsheet on a track across the bridgedeck.
The easily controlled cutter rig, large deep cockpit, powerful hull form, excellent stability characteristics, plenty of tankage and a good live-aboard accommodation, make this an exceptionally robust small cruising yacht capable of fast and comfortable passage making.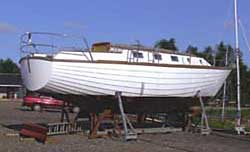 Here is 067/06 at Levington, Suffolk, England. As you can see, she has the lapstrake version hull skin. She is complete, ready to have her keel and bilge keels bolted on. Then it is time to launch, step the mast and set up the rigging, before commencing sea trails both under power and sail.
Personally, for a cruising boat I rather prefer the deep-keel version. Draught is only 1350mm (4'5⅛"), which is fine for most cruising waters, if a little problematical at times for the French canals to the Mediterranean. I have built many, many centreboard boats up to 65' or so – and they perform really well. And there are obvious advantages with a shallow draught. And we can get good stability with a low centre-of-gravity keel profile like this one. But we do suffer increased drag and resistance over the straightforward fin.
Another downside is that a centreboard is more complicated structurally. It tends to make clonking noises at some points of sailing. It can get jammed with stones and mud if you sit aground and then it is a real pain. So, for myself, I like a good solid fixed keel and just not go places where there isn't sufficient water! Specially at this size, which is beyond being a trailer-sailer, where there are good reasons for a centreboard design.
Of course, designers don't design exactly to suit their personal preferences. My job is to make the design work for the owner, make it structurally and ergonomically sound, practical, safe and seaworthy, and aesthetically pleasing. I think Design 067 fits this bill nicely, just as she is ... though I have to admit to reservations about the bilge keels in terms of performance – it's a lot of extra unnecessary surface area to drag around. But parked nice and upright on a beach in Brittany, drinking a Kir Royale in the evening sun could calm my concerns!
Click here to look at the free study plans, sample instructions and specification for this design, plus a full list of the plans and instructions that come with the design package.